Benvenuti in Puglia!
Welcome to a very Italian love story: the unbuttoned, unspoiled "heel of the boot" in glorious May. It's a lavish feast for all the senses.
A simple and original culture, Puglia is thriving with succulent food traditions, indigenous wines, loads of beauty, and some of the friendliest people in Italy.
We will be in the heart of authentic country life, staying in a gorgeous Masseria – a historic Puglian manor-farm turned stylishly chic and comfortable. There will be intelligent, accessible yoga, and wonderful biking (even if you are not a regular biker, you'll do fine with our e-bikes available and van support), there will be walking, beach-hopping, exploring Baroque towns, and feasting and food-culture: starring creative farm-to-table cooking at every meal, and our wonderful Italian crew taking care of every little thing with grace, passion, and joy. Viva!
• Enjoy daily yoga, excellent bike tours and other excursions each day : Get ready for a fantastic adventure with our favorite local guides who are passionate about their "terra" and excited to show us her secrets. Authentic villages, beaches, a great city day, foodie visits to very authentic local producers, seaside towns, and ancient sites.
•Explore the stunning landscape we'll be riding through encompasses many of the region's most beautiful towns including Alberobello, a UNESCO World Heritage site with 1,500 trulli houses; Ostuni "the White City", the charming village of Cisternino, the circular-maze of Locorotondo, the authentic and ancient port town of Monopoli, and the seaside jewel, Polignano a Mare, among others.
•Visit the city of Lecce, a stunning Baroque masterpiece known as "the Florence of the South", filled with cathedrals, Roman ruins, fabulous boutiques, excellent little restaurants, cafes, beautiful piazzas, bookstores, and local life.
• Taste and Indulge in one of the world's most luscious indigenous culinary traditions – from exceptional olive oils, to freshly-made cheeses, to wines, Puglia is the epitome of farm-to-table. Delight all your senses and learn from the passionate local experts. (did we mention gelato… and latte di mandorla made of local almonds, the list of divinities is long…)
• Revel in superb beaches, crystal-clear seas, coastal vistas, ruins, and oh yes – a spa day.
• This is your retreat Feel free to participate as much or as little as you like in all of the offerings. Relaxation by the pool is always on offer. Italians esteem the practice of dolce far niente, "sweet doing-nothing".
Our Masseria is rustic-chic, comfortable and very beautiful. It was one of the first traditional Puglian estates in the region to accept guests, and is set on the edge of the one-horse town of Speziale. It is family-run by it's owners, who've lived here for many generations. The masseria has been recently renovated to include a gorgeous pool in the spacious, grassy courtyard with ancient olive trees. The rooms are stylish and comfortable, with private bathrooms, and are set around an inner courtyard. The architecture is all white, according to local custom. Masseria Narducci is locally known for its excellent Puglian cuisine, and everything is homemade from local produce. Expect to see many locals dining here in the evenings!
All levels of yoga experience are welcome, and will be honored and provided for.
Morning sessions will invigorate and energize with clear, alignment instruction for all levels.
You'll cultivate mindful awareness of your body's innate intelligence, develop breath, focus and clarity, and enjoy the present moment while building stability and strength.
Our purpose will be to support our greatest vitality – physical, mental, and emotional – as our bodies change along the path of life.
On many afternoons a restorative yoga session will be offered, to unwind from the day's activities, balance the nervous system, and learn simple, take-home practices that help reduce stress.
We will practice outdoors poolside weather permitting, or indoors in an old stone room with natural light.
Please bring a mat – all other props will be provided.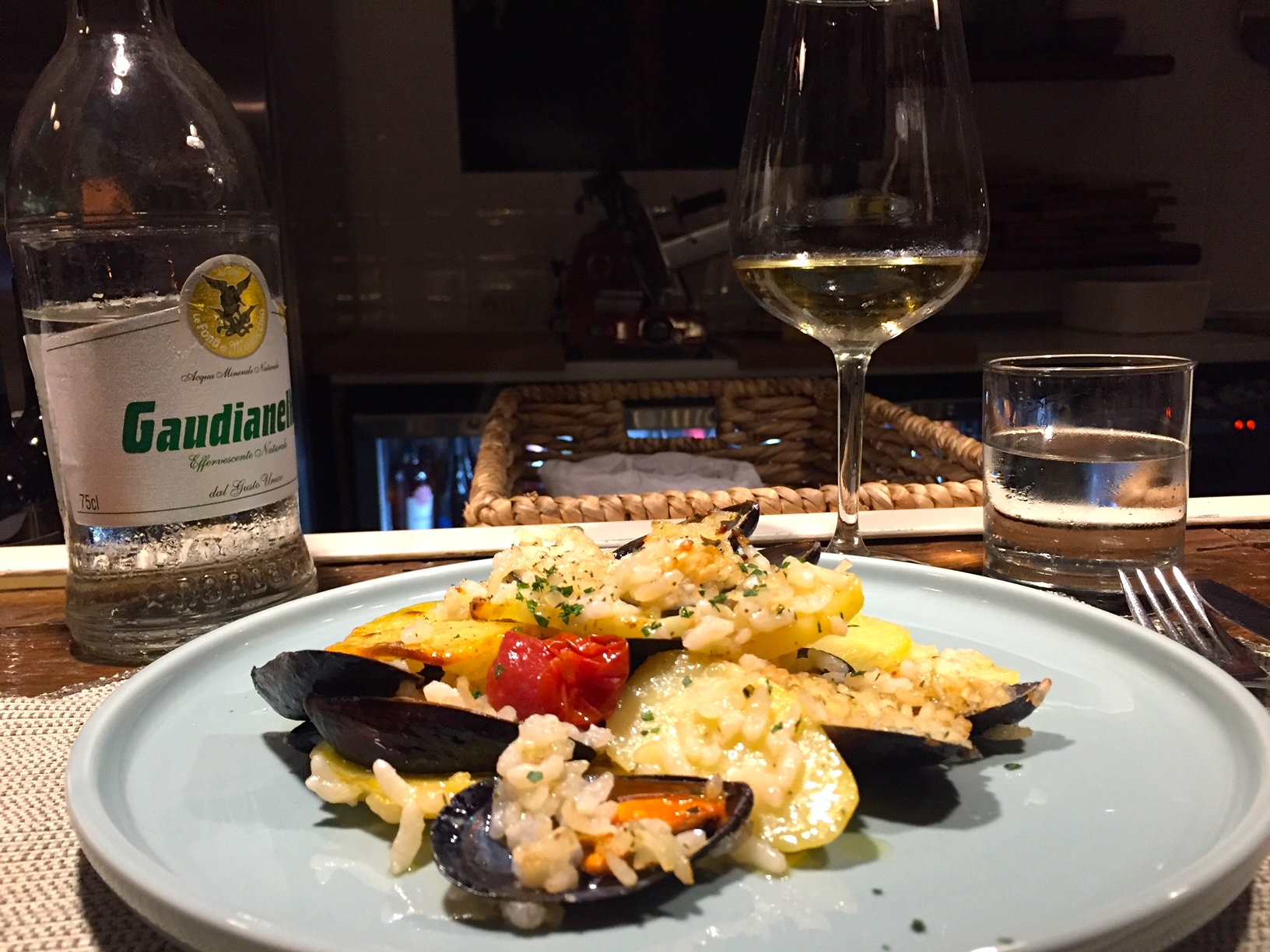 The luscious Food Culture
Get ready to feast!
Puglia has the food the rest of Italy swoons over. Much of what we love most about Italian food comes from Puglia – it is the motherland of all things fresh, wholesome, handmade and delicious. The traditional dishes are fascinating and fulfilling, and the young cooks have an innate creative flair for turning their grandparents' farm produce into exquisite creative cuisine! Our masseria is known for its restaurant, and we'll also be dinning all over nearby towns at the most curated foodie spots!
There are 60 million olive trees in Puglia, some several-million of which are over 1,000-years old! We'll be staying amongst groves of the most ancient trees. Foodie-culture visits to authentic farms making the freshest mozzarellas and other succulent cheeses indigenous to Puglia, and an olive oil estate where only the fruit of milleniums-old trees is used to produce an exclusive oil, lab-tested to be exceptionally high in healing and anti-ageing properties.
We'll take five spectacular and varied bike tours during our week: On the most carefully chosen and curated routes – with mainly tiny, little-known roads – designed and led by our fabulous local cycling guides.
Pedal through the countryside and along the coast, including the most celebrated villages and towns among them UNESCO World Heritage Site Alberobello, charming Locorotondo, Ostuni the "White City", the ancient seaside town of Monopoli with its castle and seafood, Cisternino for the most lavish lunch.
A detailed cycling itinerary of our routes provided on request , describing the historic places we'll pedal throughout the charming Valle d'Itria and spectacular coast, with opportunities to relax en route over coffee and gelato.
The cycling is accessible to everyone, with a moderate level of fitness, because we have E-bikes available!
read more here about electric-assisted bikes and selection of bike choices
You choose your desired type of bike, based on your experience and fitness level, ranging from lightweight hybrids, to top-quality carbon road bikes, or the popular choice: an electric-assisted bike! E-bikes are easy to ride, simple, and so much fun. You still get to pedal, but a battery offers a boost when you need it.
All our rides are fully supported by our fabulous, professional local guide team, and a van with bike-trailer so you can hop in when you wish.
Full details for travel planning, about our location, packing tips, and more, will be sent to you after registration to assist your preparation. For your destination airport and travel dates please see in "details" below.
Pricing and Room Options
All prices are per person.
Please note that all prices will increase by $200 after February 1, 2019.
Pre-register early to reserve your space and get this year's pricing.
Standard Room with private bathroom
Double – $3500
Single – $4100
Travel Notes
Nearest airports: Brindisi or Bari. Connecting through Rome is a great option!
Please plan to arrive in Brindisi or Bari no later than noon on May 18, if possible.
We recommend flying into Rome, and then catching a flight to Brindisi (BDS) or Bari (BRI.) Flights to Brindisi and Bari depart Rome's Leonardo da Vinci - Fiumicino Airport (FCO) several times daily. Brindisi is a bit closer and is a nice place for one night if you arrive early.
We encourage you to arrive in Italy at least a day (or more) to acclimate to the time zone and enjoy more of fabulous Italy!
The retreat begins on Saturday May 18. Check in time 1pm.
The retreat ends on Saturday, May 25 after yoga and breakfast. Early departures can be organized as needed to make flights. Check-out time is 11 am.
We will coordinate a taxi or shared transfer for you from/to the Brindisi (or Bari) airport to the masseria, according to your arrival/departure needs.
For help arranging air travel, please work with your travel advisor/agent, or you can easily book it yourself online. My favorite site for efficient airline booking is www.hipmunk.com. For hotels, Booking.com.
What's included in the price
The retreat is structured so you will have a wonderful experience with great ease.
– Daily yoga with Julia ( 1 - 2 times/day )
– Stylish accommodation for 7 nights in a historic Puglian Masseria of great beauty and charm, reserved exclusively for us.
– All bountiful, gourmet meals for the retreat (except for two lunches out ).
– Curated local restaurants and the gourmet feasts served at our masseria, which is locally-known for its food.
– All daily excursions including transportation.
– Guided, fully-supported bike tours to discover the landscape, villages, trullis, seaside towns and sites
– Foodie-culture visits to authentic local olive-oil producers, cheese-makers, farms off-the-beaten-track.
– Guided tour of Lecce, the Baroque masterpiece city known as the "Florence of the South."
– Beach days on the Adriatic Sea ( weather permitting )
– Expert local guides plus a support van and bike trailer.

Not included in the price: Airfare to Bari or Brindisi, transfer from airport to hotel, tips, two lunches, bike rental, optional spa admission.
We will be in touch with you about your travel plans to assist and help you organize your trip with ease.
A $900 deposit is due at time of registration. The remaining balance is due by February 15, 2018. (Special payment plans can be arranged on request.)
*Special dietary restrictions can be accommodated
Puglia Passion May 18 - 25, 2019